What NOT to Write in Your Online Dating Profile
Friday, April 27th, 2012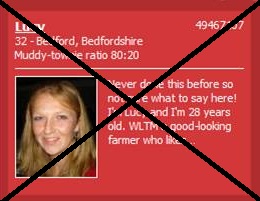 At Muddy Matches we look through hundreds of online dating profiles each week and if we'd had a pound for every person who likes "going out or staying in with a bottle of wine and a DVD" we would have been able to buy a cellar full of vintage champagne by now.
So being the caring and sharing people that we are we'd like to share our top online dating profile clichés and no-nos with you.
Avoid the clichés – you are an individual, but a cliché riddled profile doesn't demonstrate that. Try to avoid the gold old " bottle of wine and a DVD",  "I'm not sure what to write" and "I've never done this before". It's also best to steer clear of "I have a good sense of humour"; let your sense of humour shine through naturally!
Tell the truth – with online dating you come to a point where you want to meet up with the person you've been chatting to. If you have said that you are younger or thinner than you really are your date might just notice.
Don't moan about your ex – there's nothing like a good moan, but your dating profile isn't the best place to vent. Saying "I don't know why I'm bothering all men/ women lie and cheat" might as well say "I haven't got over my ex and still have emotional baggage".
Don't use text speak – leave the 'lols' to teenagers; life is challenging enough for them without us stealing their language. Acronyms are a no-no too, WLTM and GSOH may have been necessary in the age of newspaper classifieds, but there's no character limit on your Muddy Matches profile.
Don't let your profile age – saying "New Year, new start" may sound like a good way to start your profile in January, but it won't sound quite right in November. Also "I'm Lucy and I'm 28" is a bit pointless as your age will automatically update from your date of birth.
Don't ask for someone who is good looking – sorry guys, but this is something men are especially guilty of.  Everyone wants to find someone attractive, but asking for someone who is attractive might put off people who fit the criteria, but don't want to appear arrogant.
Don't be a hypocrite – it's hardly fair to say that you'll only reply to people with a picture on their profile or lots of information about themselves if you've left yours blank. The more you have on your profile the more people can talk to you about.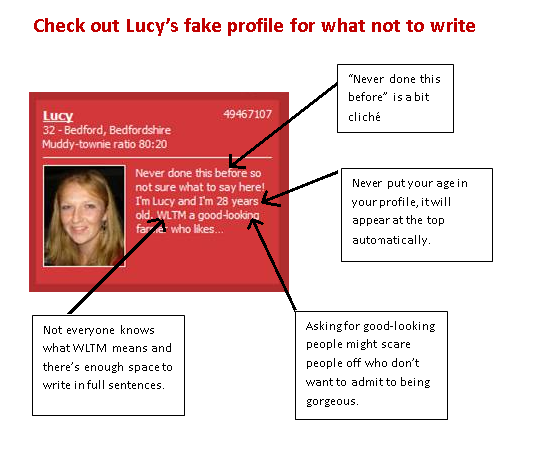 What are your dating profile pet peeves? Send us an e-mail to dating@muddymatches.co.uk to let us know.