Muddy Matches at The Country Life Fair
Thursday, October 02nd, 2014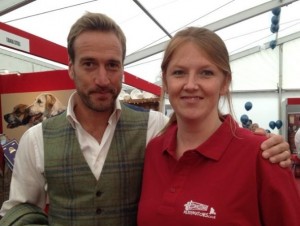 After months of planning we found ourselves in the Grand Marquee at The Country Life Fair ready to launch our new 'Get Muddy' app.
The Muddy Matches Stand
Our stand, complete with Muddy Matches banners, was perfectly placed opposite fishing tour organiser Charlie Brownlow from Fin Hunter UK and next to the Blue Strawberry food stand. We were also lucky enough to be near Alex Eastman and CJ Van der Westhuizen who are trustees of Victoria's Promise, a charity set up to support young women who are living with cancer.
Success stories
Throughout the day, lots of people came up to our stand to say that they had met their other half via Muddy Matches or that they knew of someone who met via the site. Most were too shy to pose for a photo, but the lovely Lexi and Harry were happy for us to share their photo.
We also met with a lot of people who were keen to say hello after spotting Muddy Matches in The Telegraph , the London Evening Standard and Country Life magazine.
Twitter Friends & six degrees of separation
Before The Country Life Fair got underway, there was a lot of chatter on Twitter and Facebook, so we were keen to meet some of the faces behind the accounts.
First up, we tracked down Debbie and Olivia from Maunsel House, who had said that we'd be a perfect match as we help farmers to find a wife and they hold weddings in their glorious venue in Somerset.
Then Duncan from Farrington's Mellow Yellow popped over to say hello, having remembered meeting Emma and Lucy during the Muddy Marathon back in 2007.
Venetia from Dubarry of Ireland was keen to demonstrate how waterproof their famous boots are by getting into the water tray in front of their stand.
Enticed in by a range of countryside homeware,  I found myself chatting to Nicholas Dyson and the Right Honourable Charles Skeffington from Fulham Interiors, who knew Emma and Lucy through only one degree of separation.
In line with the six degrees of separation, I was delighted to hear that Harriet from Just Bee Skincare had met her husband through Muddy Matches.
We then tracked down the  Pip Howeson stand where we found Esther was showing off one of their tweed coats in spite of the unseasonal September heat and Vicky Palmer whose animal paintings really stood out, particularly her painting of a Friesian cow.
Lastly, we caught up with Charlie Inness from Hunters of Brora, who we had met at shows in the past and took a look at his beautiful tweed samples.
Celebrity spotting
Lucy grabbed a photo with Ben Fogle and Jessica Fellowes, while Lettice Rowbotham approached the Muddy Matches stand and posed for a photo with Emma and Heather, while declaring that Muddy Matches was a "fabulous idea".
We also called Theo Paphitis over to the stand to thank him for choosing us as an Small Business Sunday Winner.
More celebrity spots followed with sightings of Dick Strawbridge, Tom Parker Bowles and Alex James.