Do You Want to Earn £150?
Wednesday, May 02nd, 2012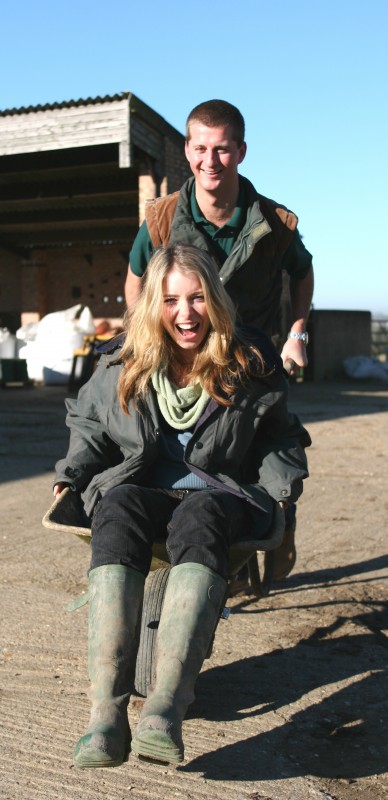 In 2006, Muddy Matches co-founders Emma and Lucy were planning the launch of their new website and roped in a group of their friends to take part in a countryside photo shoot.  We all had a fantastic day, and many laughs, mucking about on a farm for different shots and it was from this that we got the photos that you will see on the website today.
Six years later, however, we feel that it is time to freshen up the site and, since we were all in our 20s then, to hopefully better represent the broad age range of people who use Muddy Matches…and this is where you come in!
On Saturday 7th July 2012, we are planning another countryside photo shoot in Northamptonshire and are looking for fun and outgoing muddy people of all ages to take part.  We are not looking for Britain's next top model, just nice normal-looking people who aren't afraid of a camera – we'll all be making wallies of ourselves posing for pictures and you'll need to enter into the spirit of things!
Everyone selected will be paid £150 plus travel and we're sure you'll have a lot of fun at the shoot so, if you are interested in taking part, please read on for more details and instructions on how to apply.  Also, please do tell any of your muddy friends who are up for a laugh and interested in earning a few quid – you don't need to be registered on Muddy Matches to take part.
About the photo shoot
The photo shoot will be held in Podington, Northamptonshire, on Emma and Lucy's family farm.  Two countryside photographers have been booked and we'll be organising various types of shots based on different rural activities such as faming, horse-riding, fishing and walking.
Owing to the unpredictable British weather, we have selected one main date, and a possible back-up date just in case we need to postpone it.  We'll do everything we can to ensure that we stick to the main date and will only consider moving the shoot to the back-up date if severe weather conditions are predicted the week before.
Main date:    Saturday 7th July 2012 (we're gunning for this one!)
Back-up date:    Saturday 4th August 2012 (only if severe weather conditions predicted on 7th July)
Who we're looking for
As mentioned above, we are not necessarily looking for people with modelling experience, just cheerful muddy people who will enter into the spirit of the photo shoot.
Other things we need to consider are:
1    Age – we need people of all ages (18-65) to take part
2    Gender – we'll need a roughly even number of men and women across the ages
3    Dates – ideally you should be able to make both the main date (7th July) and the back-up date (4th August), but you'll definitely need to be free on the main date
4    Commitment – if you agree to come, we'll need your commitment to turn up on the day and be on time otherwise this could really muck up points 1 and 2
5    Clothing – we want an accurate portrayal of the countryside so ideally you would bring along your own country clobber – general clothes, as well as activity specific footwear, clothing and accessories e.g. wellies, walking boots, waders, riding boots etc.
What you'd get
–    £150 cash for 8 hours' work, plus mileage at £0.35/mile
–    Lunch, plus snacks and drinks throughout the day
–    A social day out with other muddy people – whilst everyone's there to work, it is also a lot of fun!
How to apply
If you would be interested in taking part, please email Emma at emma@muddymatches.co.uk with the following:
–    Full name
–    Age
–    Location
–    Contact details (address, email and mobile number)
–    A little bit of information about yourself, including any rural activities you take part in
–    A minimum of 5 photos of yourself, one of which should be a full body shot
Remember, we're not looking for supermodels, just real country people!
If you have a Muddy Matches profile, this might fulfill most of our application requirements – check that it does and then you could just send us your Profile ID and some contact details.
If you have any questions, please email emma@muddymatches.co.uk, or ring 01933 311500.