Archive for April, 2012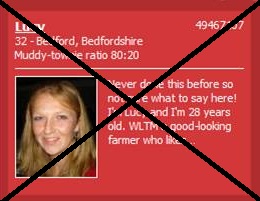 At Muddy Matches we look through hundreds of online dating profiles each week and if we'd had a pound for every person who likes "going out or staying in with a bottle of wine and a DVD" we would have been able to buy a cellar full of vintage champagne by now.
So being the caring and sharing people that we are we'd like to share our top online dating profile clichés and no-nos with you. › Continue reading
Each year millions of people join dating websites and according to a recent YouGov poll a whopping 49% of men and 41% of women have tried online dating. The success rates are pretty high too, with 20% of all new marriages starting out online.
So what makes online dating so popular?
Online dating allows you to meet people who you wouldn't have otherwise had the chance to meet. Although meeting at work or through friends is a great way to find someone with whom you have a common interest it relies on you having a big group of friends or a lot of luck.
Online dating enables you to choose from thousands of people from the comfort of your own home, but don't worry niche dating sites like Muddy Matches allow you to search for members with similar interests so that you don't get overwhelmed. However, remember not to filter out too many people straight away as searching for a 6'6" rugby player with a passion for flower arranging and rom coms would really limit your choices. › Continue reading
After more than 5 years in the professional dating game (and collectively many more in the personal dating game!) we thought it was about time we started sharing our thoughts and experiences with you in this dating advice blog.
Over the coming months, and hopefully years, we will be posting about all sorts of things to do with dating, including tips for successful online dating, date ideas, relationship advice, dating etiquette, safety advice and much, much more.
If you have any burning questions, or topics you think we should cover, as always we'd love to hear from you so please drop us a line at dating@muddymatches.co.uk.