Tag: country photos
In September we launched our photo competition, entitled What Makes You Muddy?, asking people to send in pictures of what being 'muddy' meant to them.
We received 40 photos, that spanned the full spectrum of what it is to be 'muddy', ranging from the literal (lots of mud covered people) to countryside scenes and outdoor pursuits.  Animals also featured heavily in the photos; including sheep, dogs, horses and cattle.
We were so impressed by the collection that we awarded every person who entered a week's free subscription to Muddy Matches and three lucky winners also took the top prizes.
Gold prize winner – Roger
Roger's photo made us laugh out loud and was a unanimous winner, scooping him a year's free subscription. We're not sure that his Labrador puppy, Bracken was quite as impressed with his antics.
Silver prize winner – Joanna
We were slightly worried that Joanna had been mown down by her over-enthusiastic sheep in this photo, but we awarded her six month's free subscription anyway for this amusing up-turned farmyard shot.
Bronze prize – Lydya
Lydya's photo really caught our eye, as I must admit it's not every day that you see a photo of a lady learning how to work the land using Oxen. Lydya who developed a soft spot for the "big hearted" animals has won a three month long subscription to Muddy Matches.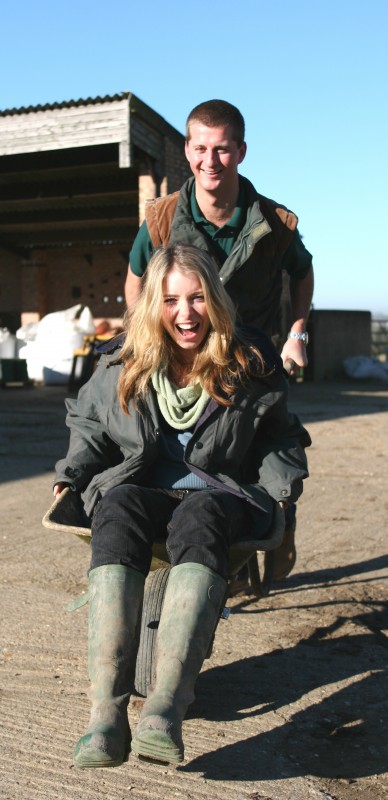 In 2006, Muddy Matches co-founders Emma and Lucy were planning the launch of their new website and roped in a group of their friends to take part in a countryside photo shoot.  We all had a fantastic day, and many laughs, mucking about on a farm for different shots and it was from this that we got the photos that you will see on the website today.
Six years later, however, we feel that it is time to freshen up the site and, since we were all in our 20s then, to hopefully better represent the broad age range of people who use Muddy Matches…and this is where you come in!
On Saturday 7th July 2012, we are planning another countryside photo shoot in Northamptonshire and are looking for fun and outgoing muddy people of all ages to take part.  We are not looking for Britain's next top model, just nice normal-looking people who aren't afraid of a camera – we'll all be making wallies of ourselves posing for pictures and you'll need to enter into the spirit of things!
Everyone selected will be paid £150 plus travel and we're sure you'll have a lot of fun at the shoot so, if you are interested in taking part, please read on for more details and instructions on how to apply.  Also, please do tell any of your muddy friends who are up for a laugh and interested in earning a few quid – you don't need to be registered on Muddy Matches to take part. › Continue reading
For our last business visit, we decided to keep it local and popped in to see Duncan Farrington, who produces Mellow Yellow cold pressed rapeseed oil on the family farm near Hargrave, Northamptonshire.
Mellow Yellow rapeseed oil and the new Farrington salad dressings
Duncan became interested in oilseed rape back in the 90s when he was looking into biodiesel production as part of his university degree but when, on a visit to Germany, he met some farmers who were pressing their own oil for human consumption he began to look into the nutritional benefits and culinary properties of cold pressed rapeseed oil and was pleasantly surprised.
With less than half the saturated fat and ten times more Omega 3 than olive oil, as well as having the optimum balance of Omega 3, 6 and 9 oils and being a natural source of Vitamin E, it certainly has lots of health benefits. Being cold pressed (rather than hot pressed, which involves heating it up, adding a solvent to boost the extraction rate and then refining and deodorising it), the oil is gently squeezed out, meaning that it retains all its natural goodness. It has a subtle, nutty flavour and is perfect for anything from salad dressings to stir-fries, high temperature roasting and frying.
Duncan Farrington
Despite all this, and the oil's growing popularity abroad, a decade ago the UK quality oil market was dominated by olive oil imported from abroad and nobody seemed to be producing rapeseed oil.  This, according to Duncan, is easily explained: oil seed rape just didn't have a good image. Whilst olive oil has a romantic image, people tended to associate oilseed rape with the smell, hayfever and GM.  Add in the word 'rape' and all its negative connotations, and it's a marketing nightmare. With this is mind, and after taking some expert advice within the industry, Duncan decided that the UK market just wasn't ready for it and so put his idea aside and returned to the family farm.
By 2000, however, it was clear that the farm wasn't big enough to support two families, and Duncan knew that they would have to expand in some way. At the same time our attitude to food was beginning to change and a Suffolk farmer had decided to give culinary rapeseed oil a go, so Duncan decided it was the right time to invest in his idea.
Changes were made to the way the farm was managed and they embarked on what was really a completely new business for them; finding the right machinery (which was apparently very difficult), sourcing and designing bottles and labels, and ironing out problems in the oil production. The name was still an issue and, whilst rapeseed is mentioned on the bottle, they came up with the brand name Mellow Yellow ("yellow in colour, mellow in taste") and it is clearly marketed as that. Investing money without really being sure that they'd ever sell a bottle, they launched the company in 2005 as around the second or third UK brand to make cold pressed rapeseed oil, but the first in Britain to grow, press and bottle it.
The press
Duncan's timing seems to have been just right and the business is now going from strength to strength. They have now been going nearly three years and he says it has got much bigger than he ever thought.  On his first day of production, he and his mother managed to make about a hundred bottles, which he then packed into his car and took to local farm shops, butchers and delis.  He now produces about 3,000 bottles a day and his oil is sold by more than 600 shops in the UK, including Harvey Nichols and Waitrose. Also, in an attempt to grow the business further, they have now started producing a honey mustard and a blackberry vinaigrette salad dressing (with Mellow Yellow as the base oil), both of which were given Great Taste Awards by the Guild of Fine Foods.
We've tasted the oil and the dressings, and there is no denying that they're delicious. Could olive oil be about to lose its stranglehold on the UK culinary oil market?  Watch this space!
Farrington Oils Ltd
Bottom Farm
Hargrave
Northamptonshire
NN9 6BP
Tel: 01933 622809
Fax: 01933 461003
www.farrington-oils.co.uk