Category: Rural Affairs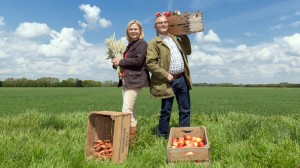 The BBC's new 3-part farming series Harvest started on BBC2 on 11th September and has received plaudits from the farming community and the non-farming community alike, except for The Guardian's review (but we'll gloss over that). In fact, some farmers even said that they had learned something from the programme themselves.
The first hour-long episode entitled 'Vegetables: The Goodness of the Earth' focused on Andrew Burgess's Produce World Farm in Peterborough. Other features included a farm where they grow tomatoes all year round and an innovative use of LEDs. The programme also looked at the devastating impact of the extreme weather conditions in 2012 that destroyed millions of pounds worth of crops.
The second show aired on 12th September will focus on cereals and the final show on 13th September will look at the fruit farming industry.
What do you think of the series so far? How do you think Gregg Wallace and Philippa Forrester would do on our muddy quiz? Join the discussion on Facebook or Twitter to let us know your thoughts on the show.
Under the Coalition government's proposed new planning rules, the UK countryside is under threat and the National Trust is campaigning to ask them to rethink.  On their website they say:
"For decades our planning system has protected much loved places from harmful development. The Government's reforms turn this on its head, using it as a tool primarily to promote economic growth instead.
Despite news that the Government has offered to talk through the proposed changes to the planning system, we're not convinced they're listening. Until Government can guarantee they'll consider a new approach, we will continue to campaign hard and urge you to get involved.
We believe in growth – but not at all costs. Planning for people combines long-term growth with other important things like local character and space to breathe, tranquillity and beauty. We need a system that serves all our interests, from commerce to communities."

For more information about this issue, you might be interested in reading National Trust chairman Simon Jenkins' recent article in the Guardian.  The latest updates are also being posted on the National Trust blog.  If you would like to support this campaign and have your say, please sign their petition by clicking on the link below.
Being a rurally-based business with tens of thousands of clients living in rural areas who rely on the internet to access our service, the issue of rural broadband is one that is close to our hearts.  We were pleased therefore this morning to read that Ofcom has told BT to cut its wholesale charges to other internet providers in rural areas.  These cuts should mean lower prices and faster internet access speeds for a lot of our members…something which is long overdue!
To read more on this story, click on the following links: BBC News and The Independent.