Tag: dating blog
Your main picture is one of the first things people see when they look at your online dating profile, so it's important that it shows you in the best light. There's no point spending hours writing an amazingly witty profile about yourself and then uploading the first picture you find, or worse still not even having a photo on your profile.
Here are our dos and don'ts to get the perfect profile picture, complete with handy illustrations. › Continue reading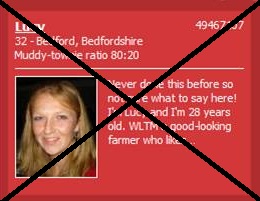 At Muddy Matches we look through hundreds of online dating profiles each week and if we'd had a pound for every person who likes "going out or staying in with a bottle of wine and a DVD" we would have been able to buy a cellar full of vintage champagne by now.
So being the caring and sharing people that we are we'd like to share our top online dating profile clichés and no-nos with you. › Continue reading