Tag: cliches

In the same way that changing your photos can attract new people to your profile, updating your profile text can also attract new people.
Here the most important things to consider when updating your profile text:
Make sure your dating status is correct
Muddy Matches isn't just about finding a romantic partner, however if you are in a relationship, please make sure that your profile reflects this!
If you have recently started dating, but are unsure whether it will work out, you can always hide your profile in the 'My Account' section on Muddy Matches and re-activate it later if you wish to use the site for dating again.
If you really don't want to be on a dating site anymore, find out how to remove your profile from the site, as there's nothing worse than contacting someone, only to find that they aren't interested in dating anyone. To remove your profile from Muddy Matches, take a look at our FAQs. › Continue reading
As an antidote to our worst dates blog, I thought it was only right to share some best date stories. So in the spirit of things, I'll start by telling you about the most romantic date I have been on. › Continue reading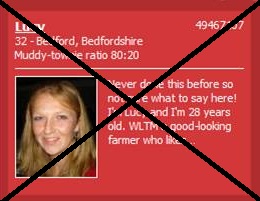 At Muddy Matches we look through hundreds of online dating profiles each week and if we'd had a pound for every person who likes "going out or staying in with a bottle of wine and a DVD" we would have been able to buy a cellar full of vintage champagne by now.
So being the caring and sharing people that we are we'd like to share our top online dating profile clichés and no-nos with you. › Continue reading